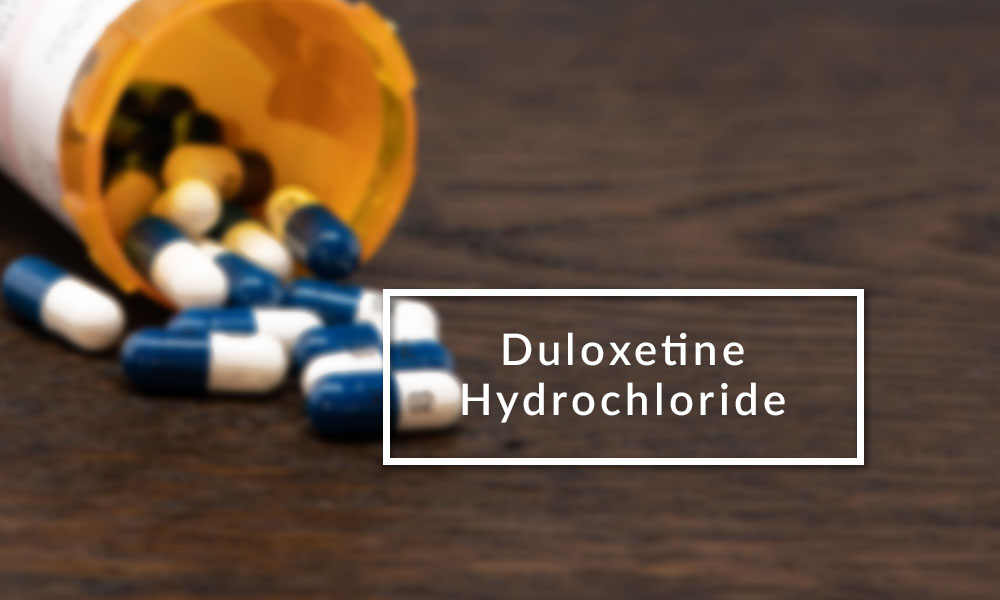 Duloxetine Hydrochloride
Overview:
Duloxetine is an antidepressant with a selective serotonin and norepinephrine reuptake inhibitor (SSNRI). Duloxetine changes brain chemicals that may be out of balance in persons who suffer from depression. It's is a medication used to treat serious depression in adults. It is used to treat generalized anxiety disorder in adults and children over the age of seven. It's also used to treat nerve pain caused by diabetes (diabetic neuropathy) as well as persistent muscular or joint pain in adults (such as low back pain and osteoarthritis pain).
Primary Characteristics:
Duloxetine hydrochloride is a white to slightly brownish white solid that is mildly soluble in water. Inactive components include FD&C Blue No. 2, gelatin, hypromellose, hydroxypropyl methylcellulose acetate succinate, sodium lauryl sulphate, sucrose, sugar spheres, talc, titanium dioxide, and triethyl citrate. Iron oxide yellow is also included in the 20 mg and 60 mg capsules.
Pharmacology:
Indication:
Recommended for:
1) Treatment of Major Depressive Disorder (MDD).
2) Generalized Anxiety Disorder Management
3) Diabetic peripheral neuropathy management.
4) Fibromyalgia management.
5) Chronic musculoskeletal pain management
6) Knee osteoarthritis management in adults.
7) Adults' persistent lower back pain management.
8) Adult female stress urinary incontinence management.
Off-label uses include:
1) Chemotherapy-induced peripheral neuropathy management.
2) Management of stress urine incontinence in adult males following prostatectomy till full recovery.
Mechanism of Action:
The CNS effects of duloxetine mediate its action on the external urinary sphincter. Enhanced serotonin and norepinephrine concentrations in Onus's nucleus result in increased adrenergic receptor activation. These receptors' activity contributes to increased excitability of the pudendal motor neuron. The hypertensive impact of duloxetine is connected to its intended pharmacological action. Increased norepinephrine availability activates adrenergic receptors on the vascular endothelium. Because the Gq coupled receptor causes calcium release, vasoconstriction occurs because the activity of α1 receptors predominates.
Side Effects:
Inform your doctor right away if you notice any new or unexpected changes in your mood or behavior, such as new or worse sadness or anxiety. If you are impulsive, irritable, agitated, angry, aggressive, restless, more active or chatty, or have suicidal or self-harming ideas, contact your doctor. If you have: pounding heartbeats or fluttering in your chest; a light-headed feeling as if you're about to pass out; easy bruising, unusual bleeding; visual changes; or painful urination.
Liver Problems include right-sided upper stomach discomfort, itching, dark urine, and jaundice (yellowing of the skin or eyes).
Low blood sodium can cause headaches, disorientation, difficulty with thinking or memory, weakness, and a shaky sensation.
Manic episodes are characterized by racing thoughts, increased activity, decreased need for sleep, risk-taking behavior, and agitation or talkativeness.
Seek medical attention right away if you have symptoms of serotonin syndrome, such as: agitation, hallucinations, fever, sweating, fast heart rate, muscle stiffness, twitching, loss of coordination, nausea, vomiting, or diarrhea.
Precautions:
Inactive components in duloxetine may cause allergic reactions or other complications. This medication may cause dizziness or drowsiness. If you use marijuana, consult your doctor. If you have diabetes, this medication may have an effect on your blood sugar. Older people are more likely to develop a sort of salt imbalance (hyponatremia), particularly if they use "water pills" (diuretics). Falls might be exacerbated by dizziness, lightheadedness, or loss of coordination. This medicine may potentially be harmful to an unborn child.
Warning:
Suicidal ideation is common in those suffering from depression or mental illness. When first taking a depression medication, some young individuals may experience heightened suicide thoughts. Do not discontinue duloxetine without first consulting your doctor. It is possible that a hazardous medication interaction will occur.
Vision Pharmaceuticals (PVT) Limited
Vision Pharmaceuticals are one of the best pharmaceuticals companies of the world. Different types of pharma products & drug pellets we manufacture speak volumes of the high quality, efficacy & durability. If you have any query or want to know about any product, contact us on following numbers;
+92 (051) 449 3587, +92 (51) 449 3589, +92 (321) 517 1779