Lansoprazole Sodium Sterile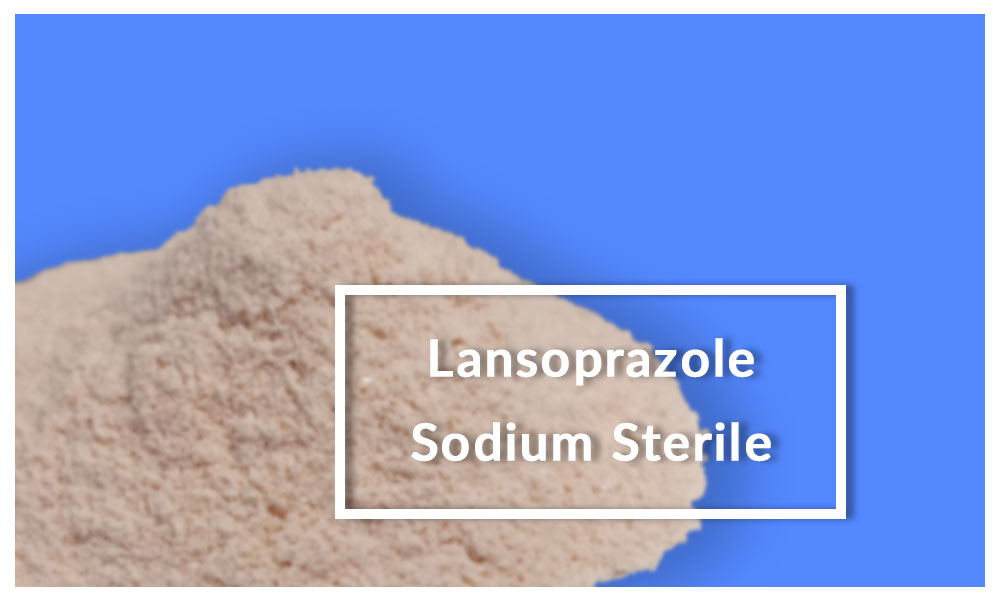 Lansoprazole Sodium Sterile
Overview:
Lansoprazole is a substituted Benz imidazole that blocks gastric acid production. This medication is permitted for the short-term treatment of erosive reflux erosive esophagitis, active gastric ulcers, active duodenal ulcers, and NSAID-induced gastric ulcers. It works by inhibiting the membrane enzyme H+/K+ ATPase in gastric parietal cells. In individuals with peptic ulcer disease, a daily dose of 30 mg alleviated epigastric pain faster than omeprazole 20 mg daily. Lansoprazole is a prescription drug. It's available as a delayed-release oral capsule and orally disintegrating tablet. It reduces the amount of acid produced in your stomach by blocking the proton pump in the cells of your stomach. It can be used to treat gastric ulcers, duodenal ulcer and heartburn.
Primary Characteristics:
Lansoprazole is an odorless white to brownish-white crystalline powder that melts around 166°C when decomposed. With lowering pH, the rate of breakdown of the chemical in aqueous solution rises. PREVACID I.V. for Injection comprises 30 mg lansoprazole, 60 mg mannitol, 10 mg melamine, and 3.45 mg sodium hydroxide as the active component. It comes as a sterile, lyophilized powder for intravenous administration.
Pharmacology:
Lansoprazole reduces stomach acid secretion by inhibiting H+, K+-ATPase, an enzyme in parietal cells that catalysis the final step in the acid secretion process.   Lansoprazole can be taken at any time of day and will inhibit both daytime and nocturnal acid secretion. As a result, lansoprazole is efficient at healing duodenal ulcers, reducing ulcer-related discomfort, and alleviating heartburn symptoms.  Lansoprazole also inhibits pepsin secretion, making it an effective treatment for hyper secretory disorders such Zollinger-Ellison syndrome.
Mechanism of Action:
As a PPI, lansoprazole is a prodrug that must be activated by protonation in an acidic environment.  Lansoprazole may react with cysteine residues on parietal H+, K+-ATPase, notably Cys813 and Cys321, to form persistent disulfides once protonated. Because of their propensity to bind covalently to their targets, 35 PPIs can offer long-term suppression of acid secretion.
Contradiction:  
PREVACID I.V. (lansoprazole for injection) for Injection is contraindicated in patients with known severe hypersensitivity to any component of the formulation.
Absorption:
Lansoprazole has an oral bioavailability of 80-90 percent and a peak plasma concentration (Cmax) of around 1.7 hours after oral administration.  Because food affects lansoprazole absorption (both Cmax and AUC are lowered by 50-70%), patients should be told to take lansoprazole before meals.
Side Effects:
The majority of people who use this medicine do not have any substantial adverse effects. Diarrhea, abdominal pain, and headache are all possible side effects. If you have persistent diarrhea, abdomen or stomach pain/cramping, fever, or blood/mucus in your stool, call your doctor immediately once. Anti-diarrhea and opioid medications should be avoided since they may exacerbate symptoms.
Precaution:
Some symptoms might be warning indications of a more serious illness. Proton pump inhibitors (such as lansoprazole) might make you more susceptible to bone fractures. Consult your doctor or pharmacist for advice on how to avoid bone loss and fractures. The drug's adverse effects, including bone loss and fractures, may be more severe in elderly adults.
Warnings:
Bone fracture warning: People who take many doses of this medicine each day for a year or longer may be at risk for bone fractures. Breaks in your hip, wrist, or spine are more likely to occur. You must take this medication exactly as directed by your doctor.
Severe Diarrhea warning: A drug called Clostridium difficile (C. diff) can cause diarrhea, stomach pain and fever that won't go away.
Kidney damage warning: If you suffer bleeding or changes in urine while being treated for meningitis, menopause, or post-exfoliating colorectal cancer, call your doctor.
Vision Pharmaceuticals (PVT) Limited
Vision Pharmaceuticals are one of the best pharmaceuticals companies of the world. Different types of pharma products & drug pellets we manufacture speak volumes of the high quality, efficacy & durability. If you have any query or want to know about any product, contact us on following numbers;
+92 (051) 449 3587, +92 (51) 449 3589, +92 (321) 517 1779