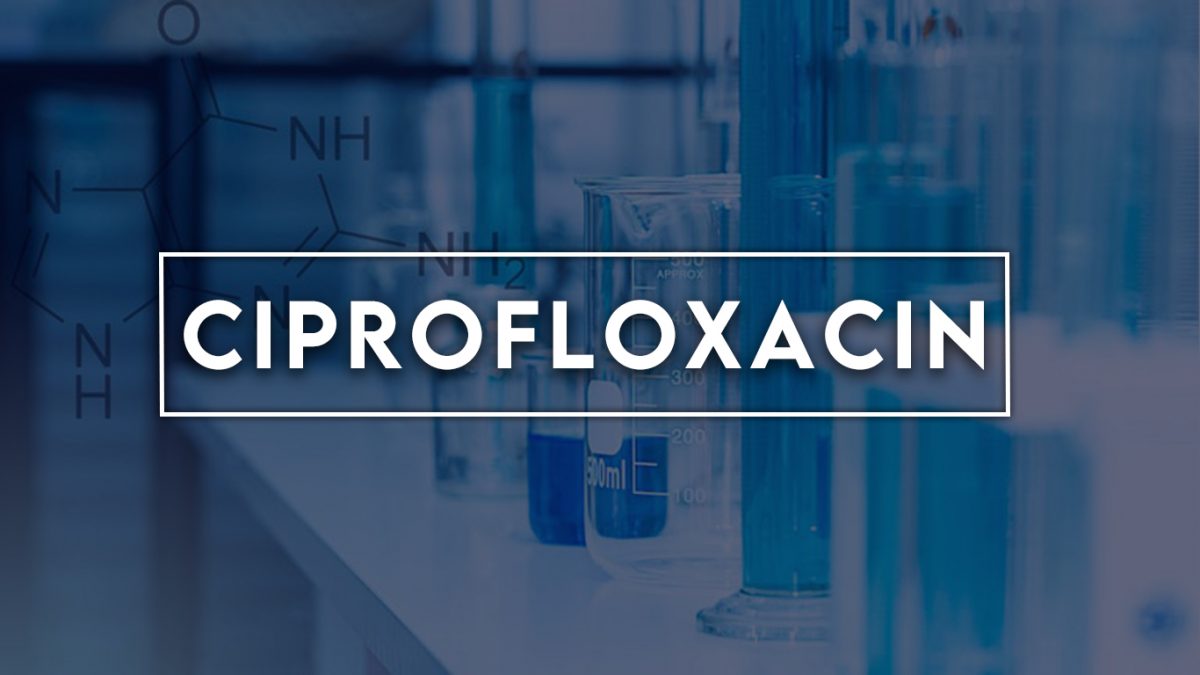 Ciprofloxacin
Overview
Ciprofloxacin is a fluoroquinolone antimicrobial agent with a broad spectrum of activity against both gram-negative and gram-positive bacteria. It relatively non-toxic and well tolerated broad spectrum agent. Excellent bioavailability permits its use for treatment of variety of serious bacterial infections. Require constant drug level in body for therapeutic effect. This is achieved by taking the medication at regular interval of time throughout the day and night as prescribed. For Ciprofloxacin (HCl) it important to take the drug for the full time period as prescribed. If you discontinue the therapy it may result in ineffective treatment.
Ciprofloxacin (HCl) is the monohydrated hydrochloride salt of ciprofloxacin. Ciprofloxacin (HCl) is effective against many gram positive and gram negative bacteria, including some strains resistant to penicillins, cyclosporins and aminoglycosides.
Primary Characteristics
Ciprofloxacin (HCl) is the derivative of Ciprofloxacin. It is of Semi Synthetic origin and belongs to Quinoline Carboxylic Acid. It belongs to DNA Gyrase inhibitor pharmacological group on the basis of mechanism of action and also classified in Antibiotics pharmacological group. The Molecular Weight of Ciprofloxacin is 346.00. Its pKa is 6-8.8.
Indications
Ciprofloxacin primarily indicated in conditions like Acromegaly (short-term treatment before pituitary surgery), Chronic prostatitis, GI infections, Gonorrhoea, Iron-deficiency anaemia prophylaxis or for mild iron deficiency, Iron-deficiency anaemia with chronic renal failure, Most other infections, Muscle relaxation (long duration) for surgery and intubation, , Osteomyelitis, Pseudomonal lower+RTI in cystic fibrosis, Respiratory tract infections, Sexually transmitted disease, Sexually transmitted infections, Skin infections, Skin structure infections, Status epilepticus (unlicensed use), Surgical prophylaxis, Urinary tract infection.
Pharmacokinetics
Oral absorption of Ciprofloxacin is found to be 67% ±17. Volume of distribution is found to be 177-217 litre and plasma protien binding 30%. and metabolism reported 5% via liver. Renal Excretion accounts for 70% unchanged, 10% metabolites of IV dose and plasma half life is 3-4 hr.
 Mechanism of action
Ciprofloxacin acts on bacterial topoisomerase II (DNA gyrase) and topoisomerase IV. Ciprofloxacin's targeting of the alpha subunits of DNA gyrase prevents it from supercoiling the bacterial DNA which prevents DNA replication.
Metabolism
Ciprofloxacin is primarily metabolized by CYP1A2. The primary metabolites oxociprofloxacin and sulociprofloxacin make up 3-8% of the total dose each. Converted to the minor metabolites desethylene ciprofloxacin and formylciprofloxacin. These 4 metabolites account for 15% of a total oral dose.
There a lack of available data on the enzymes and types of reactions involved in forming these metabolites.
Contraindications
Ciprofloxacin is contraindicated in conditions like Epilepsy, and Hypersensitivity.
Side Effects
The severe or irreversible adverse effects, which give rise to further complications include Hearing loss, Seizures and Pseudomembranous colitis.
Produces potentially life-threatening effects which include Anaphylactoid reactions, Stevens Johnson syndrome, Acute Renal Failure, Epidermal necrolysis, Fluminant hepatic failure. which are responsible for the discontinuation of Ciprofloxacin therapy.
The symptomatic adverse reactions produced by Ciprofloxacin are more or less tolerable and if they become severe, they can treated symptomatically, these include Dizziness, Headache, Nausea, Vomiting, Diarrhoea, Tachycardia, Nervousness, Tremors, Rashes, Urticaria, Pruritus, Photosensitivity, Elevation of liver enzymes, Thrombocytopenia, Eosinophilia, Increased intracranial pressure, nervousness, joint symptoms, agranulocytosis.
Warning / Precautions
Ciprofloxacin used with caution in patients with known or suspected central nervous system (CNS) disorders, renal impairment or hepatic disease, with a history of GI disease especially colitis or who dehydration. Do not exceed the recommended dose. Take appropriate measures if secondary infections occur.
Storage Conditions
Eye Solution/ Eye ointment
Store at room temperature, Below 30°C or in refrigerator. Do not Freeze. Protect from Sunlight.
Injection (reconstituted solutions)
Store at room temperature, Below 25°C or in refrigerator. Do not Freeze. Protect from Sunlight. Use within 2 weeks if kept at room temperature.
Store .
Interference in Pathology
Elevations of SGPT and SGOT
Serum creatinine raised
Elevation in ALT or AST
blood urea raised.
Vision Pharmaceuticals (PVT) Limited
Vision Pharmaceuticals are one of the best pharmaceuticals companies of the world. Different types of pharma products & drug pellets we manufacture speak volumes of the high quality, efficacy & durability. If you have any query or want to know about any product, contact us on following numbers;
+92 (051) 449 3587, +92 (51) 449 3589, +92 (321) 517 1779