cyclobenzaprine hydrochloride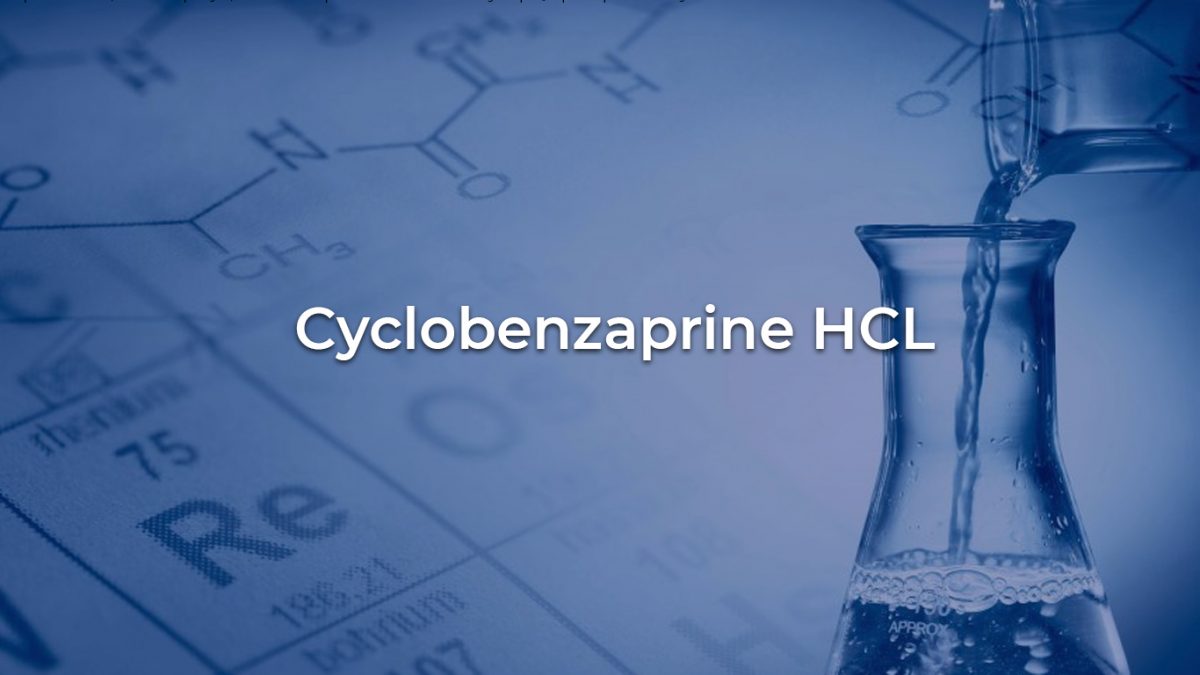 cyclobenzaprine hydrochloride
Overview
Cyclobenzaprine hydrochloride is a tricyclic amine salt with the empirical formula C20H21N•HCl. Cyclobenzaprine is a central nervous system (CNS) muscle relaxant intended for short-term use in the treatment of pain, tenderness, and limitation of motion caused by muscle spasms. It is thought to act within the CNS at the brain stem rather than spinal cord levels, although action at the spinal cord level may contribute to some of its skeletal muscle relaxant action.
Primary Characteristics
. It belongs to Muscle Relaxants pharmacological group on the basis of mechanism of action. The Molecular Weight of cyclobenzaprine hydrochloride is 311.90. Its pKa is 8.47.
Indication
Cyclobenzaprine is indicated as a short-term (2-3 weeks) adjunct therapy, along with rest and physical therapy, for relief of muscle spasm associated with acute, painful musculoskeletal conditions. It not been found effective in the treatment of spasticity originating from cerebral or spinal cord disease, or spasticity in children with cerebral palsy. Cyclobenzaprine is also occasionally used off-label for reducing pain and sleep disturbances in patients with fibromyalgia.
Pharmacokinetics
Oral absorption of cyclobenzaprine hydrochloride is found to be 44% ±11. Plasma protein binding is high. and metabolism is reported P-450 3A4, 1A2, and, to a lesser extent, 2D6. Renal Excretion accounts for as glucuronides and plasma half life is 18 Hours.
Contraindications
Cyclobenzaprine hydrochloride is contraindicated in conditions like Hyperthyroidism, Congestive heart failure, Hypersensitivity to any component of product.
Pharmacodynamics
Cyclobenzaprine is a skeletal muscle relaxant that works on areas of the brainstem to reduce skeletal muscle spasm, though its exact pharmacodynamic behavior is currently unclear. Despite its long half-life, it is relatively short-acting with a typical duration of action of 4-6 hours. Cyclobenzaprine has been reported to contribute to the development of serotonin syndrome when used in combination with other serotonergic medications. Symptoms of serotonin syndrome may include autonomic instability, changes to mental status, neuromuscular abnormalities, or gastrointestinal symptoms. treatment with cyclobenzaprine should be discontinued immediately if any of these reactions occur during therapy.
Mechanism of Action
The exact mechanism of action of cyclobenzaprine has not been fully elucidated in humans, and much of the information available regarding its mechanism has been ascertained from early animal studies. There is some evidence that cyclobenzaprine exerts its effects at the supraspinal level, specifically within the locus coeruleus of the brainstem, with little-to-no action at neuromuscular junctions or directly on skeletal musculature. Action on the brainstem is thought to result in diminished activity of efferent alpha and gamma motor neurons, likely mediated by inhibition of coeruleus-spinal or reticulospinal pathways, and ultimately depressed spinal cord interneuron activity.
More recently it has been suggested that inhibition of descending serotonergic pathways in the spinal cord via action on 5-HT2 receptors may contribute to cyclobenzaprine's observed effects.
Metabolism
Cyclobenzaprine is extensively metabolized in the liver via both oxidative and conjugative pathways. Oxidative metabolism, mainly N-demethylation, is catalyzed primarily by CYP3A4 and CYP1A2 (with CYP2D6 implicated to a lesser extent) and is responsible for the major metabolite dimethyl cyclobenzaprine. Cyclobenzaprine also undergoes N-glucuronidation in the liver catalyzed by UGT1A4 and UGT2B1, and has been shown to undergo enterohepatic circulation
Half-life
The effective half-life of cyclobenzaprine in young healthy subjects is approximately 18 hours. These values are extended in the elderly and those with hepatic insufficiency, with a mean effective half-life of 33.4 hours and 46.2 hours in these groups, respectively
Side Effects
The severe or irreversible adverse effects of cyclobenzaprine hydrochloride, which give rise to further complications include Irregular heart beat.
cyclobenzaprine hydrochloride produces potentially life-threatening effects which include Hypersensitivity reactions. which are responsible for the discontinuation of cyclobenzaprine hydrochloride therapy.
The signs and symptoms that are produced after the acute over dosage of cyclobenzaprine hydrochloride include Nausea, Tachycardia, Hallucinations, Drowsiness, Changes in ECG, Slurred speech, Dizziness, Coma, Severe hypotension, Seizures, Cardiac dysrhythmias, Confusion, Tremor, Vomiting, Ataxia, Agitation, Hypertension.
The symptomatic adverse reactions produced by cyclobenzaprine hydrochloride are more or less tolerable and if they become severe. They can be treated symptomatically, these include Headache, Drowsiness, Fatigue, Nausea, Diarrhea, Constipation, Abdominal pain, Dry mouth, Acid regurgitation.
Warning / Precautions
Use of Cyclobenzaprine Hydrochloride for periods longer than two or three weeks is not recommended. Less frequent dosing should be considered for hepatically impaired or elderly patients. It is contraindicated in acute recovery phase of myocardial infarction, and patients with arrhythmias, heart block or conduction disturbances, or congestive heart failure. Used with caution in elderly patients with reduced doses. It should be used with caution in patients with a history of urinary retention. Angle closure glaucoma, increased intraocular pressure, and in patients taking anticholinergic medication. Used with caution in subjects with mild hepatic impairment starting with a 5 mg dose and titrating slowly upward. In subjects with moderate to severe impairment is not recommended. Safety and effectiveness of cyclobenzaprine hydrochloride in pediatric patients below 15 years of age have not been established.
Storage Conditions
Store Between 15°C-30°C.
Vision Pharmaceuticals (PVT) Limited
Vision Pharmaceuticals are one of the best pharmaceuticals companies of the world. Different types of pharma products & drug pellets we manufacture speak volumes of the high quality, efficacy & durability. If you have any query or want to know about any product, contact us on following numbers;
+92 (051) 449 3587, +92 (51) 449 3589, +92 (321) 517 1779